friedhof:spaceappschallenge2013
SpaceAppsChallenge2013
What's it about?
The International Space Apps Challenge is a 2 day technology development event during which citizens from around the world will work together to solve current challenges relevant to both space exploration and social need. The International Space Apps Challenge will take place on all seven continents – and in space - on 21-22 April 2012.
One of these events will take place amoung us here in Stuttgart's Hackerspace shackspace, a real great precondition for hacking space apps.
Register!
Please register on https://spaceappschallenge.org/register/, so that you can join an app challenge, and because there is just a limited number of places at our location. When there will be more, we will try to find more places or you can participate in a "virtual" location via the internet. But please register, so that we can plan.
Where and When
When
21-22 April 2013 Start 21.04.13 - 9:00 Hrs End 22.04.13 - 16:00 Hrs
Who wants to come on friday is kindly welcomed. We plan an evening programme beyond the official timeline.
Where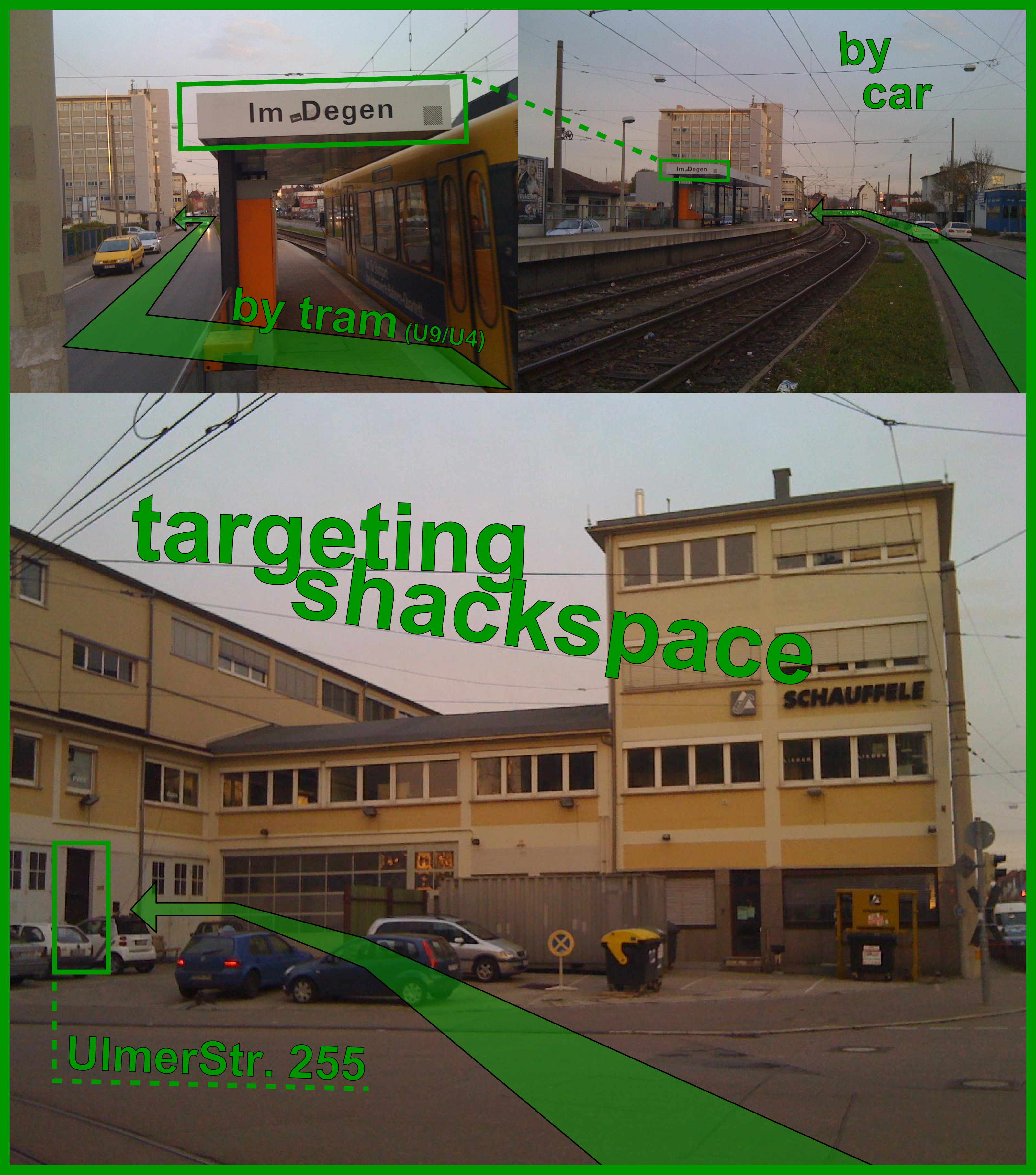 shackspace Ulmer Straße 255, 70327 Stuttgart-Wangen
there will be signs in front of the door

signs infront of public rooms and responsible people for e-lab
Route
Public Transportation
ÖPNV: U-Bahn station "Im Degen" - lines U4, U9
Private
Parking lots are available near to shackspaces.
Who's an Organizer?
Team-Up
Questions to ...
Preliminary Timeline
Before Space Apps Challenge
registrate on www.spaceappchallenge
choose & join an app challenge
tell Stuttgart orgas, which app
prepare yourself

Friday, April 19 (optional)
20:00 hrs Launch preparation, pre-registration
Saturday, April 20
Sunday, April 21
App Conference Calls to Virtuall and Other Locations
10:30 hrs (starting) Subject Matter Expert briefing for AerospaceResearch.net apps
please contact me to date meetings for questions concerning our own app challenges. Send me an email or skype message (see above)
What can I do and code?
On http://spaceappschallenge.org/challenges there are a lot of challenges, where you can chose your apps you want to realize. When you have registered for SpaceApps, you can join a challenge on their description page. This will help to find other participants, who will also code this app, and it helps the challenge supporter to help you.
Bring Your Own ...!
If you want to work on hardware, then the motto is to bring your own hardware. We plan to organize webcams for the Brightest Night app challenge, but we can't promise anything. To be sure to have it available you should bring everything you need to work on it during the event. We have an E-Lab and a Media-Lab, where you could solder or do smaller and bigger tasks. When you need something fancy, please send us a notice, we will help to organize it!
External Event Tracking
Live Streams
Support
Meal
Award Prizes
Surrounding
Accommodation
The event will take place during 2 days between saturday and sunday and everyone who wants to come on friday before the event is welcome. So you can have a pre-launch look at shackspace. It is okay to fall asleep on a couch in lounge area because of exhaustion due to hack-a-thon programming, but when you need a real bed, please book an accomodation by yourself. We want to point out, that Frühlingsfest in Bad Cannstatt will start on 21.04 and this could influence the booking attitude in our area.
Unfortunately we don't have a shower (yet), but there is the public swimming bath Inselbad Untertürkheim (Wegbeschreibung) and costs 4,10€ and (1/2 before closing) 3,10€ in the evening.
chemist's
Food and Stuff
What Language? Not a native German speaker? No Problem!
When you don't speak German, that's not a problem for us as long as you don't mind us speaking English with a German or Swabian accent perhaps. When you want to have the details listed here in English, please let us know (Email, Twitter) and we will translate it.
Please check this site regularly, there are still things todo
friedhof/spaceappschallenge2013.txt · Zuletzt geändert: 2020-07-20 12:44 von neos
---